There are three distinct areas at Sunchaser Vacation Villas:
Riverside is home to our Front Desk, Recreation Centre and buildings 100 through 800.
Hillside is home to buildings 1000 through 8000 and our seasonal outdoor pool, family water park, and waterslide.
Riverview (8100 building) is our newest building, located approximately 1 km south of the other resort buildings. Resort amenities are a short drive away, or can be accessed via walking path along the highway shoulder and into the Riverside neighbourhood (use caution if walking).
Facts at a Glance
Check-in time is after 5:00pm.
Check-out time is before 10:00am.
Front Desk staff are available between 7:30am and 11:00pm.
Convenience store hours are from 7:30am until 10:30pm.
A fitness room is located in the lower level of the Recreation Centre (available from 7:30am until 10:30pm).
All villas are non-smoking.
Pets are not allowed in the villas or on the resort property.
We are a family-oriented resort; quiet hours are between 11:00pm and 8:00am.
Laundry facilities are available in the villas, or located nearby (we do not provide daily maid service).
Full or partial kitchen facilities, including dishes and cutlery, are provided in each villa.
We do not have an on-site dining room.
Barbeques are located on each A-side deck, and shared between every two B-side units.
Mobility and Accessibility Concerns
Riverview is the only building serviced with an elevator.
Should you require a ground floor unit, or have other special needs, please discuss your requirements with a reservations agent at the time of your booking (1-877-451-1250).
We have a limited number of handicapped accessible and handicapped equipped units in several of our Hillside buildings.
If booking through RCI or Interval, we are often unable to make changes to villa assignments. Please speak to the appropriate exchange company agent with regards to any special needs.
Location Map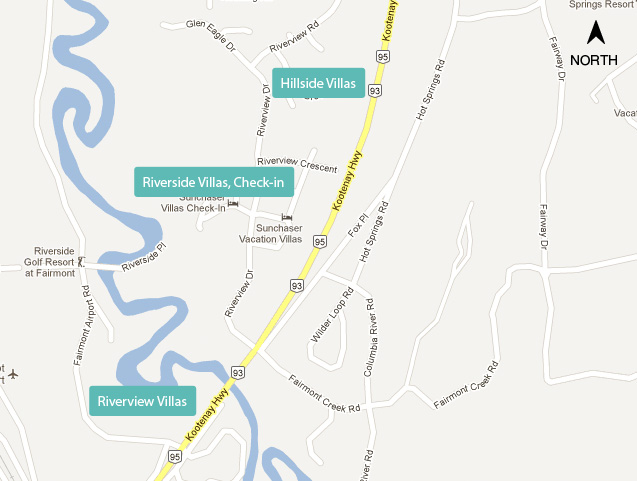 Should you have any questions please contact our friendly and helpful Front Desk staff at 250-345-4545.